Adorable Kids Room and Bathroom Take out The Block's Double Room Reveal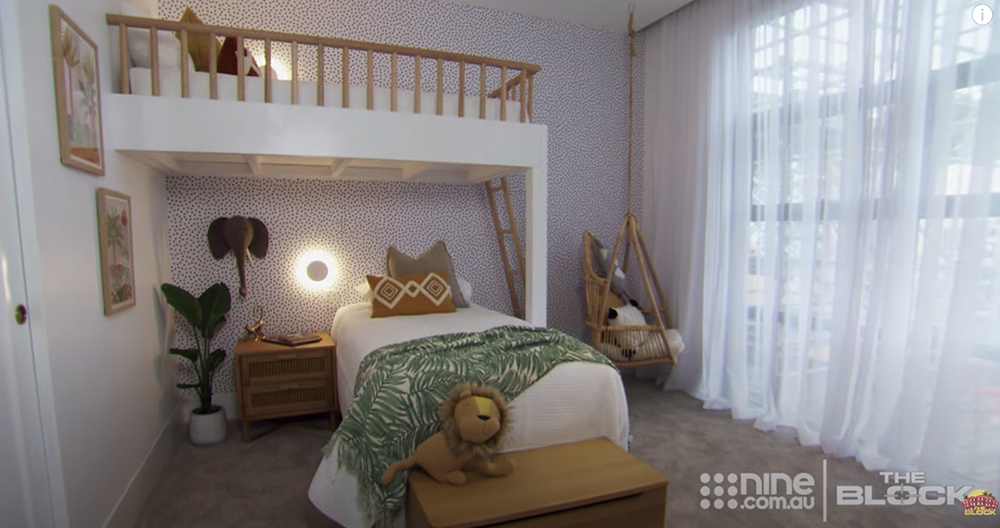 Image Credit The Block YouTube
Last nights double room reveal saw teams bring us their completed upstairs bedroom and bathroom spaces.
And yet again, one team, in particular, have shown just why are they are going to be hard to beat come auction day!
Quite cleverly Luke and Jasmin designed a kids bedroom this week as they revealed they are wanting their house to appeal to a family.
And OMG swoon, the end result is the kid's bedroom of my dreams, like seriously can I go back in time to be being a kid just for this room!
It really is a perfect room for a child, and the styling was on point! From the wallpaper to the reading lights, and that hanging chair need I say more.
And the light and airy space flow perfectly through to the bathroom with the wooden timber accents featured in both spaces linking them nicely.
They are seriously developing a killer style that is going to be hard to beat.
Watch the full reveal of Luke and Jasmin's spaces below!
But unfortunately, the other teams seem to be struggling with that same level of consistency.
Trust us, you'll understand when you check out the photos below - like seriously I think some of these teams need a quick crash course in interior design and styling!
Jimmy and Tam
Sarah and George
Daniel and Jade
Harry and Tash
Unfortunately for two couples this week Daniel and Jade and Harry and Tash the criticism of their bathrooms was definitely one to queue tears.
Judge Darren Palmer left little to the imagination while critiquing both spaces.
Daniel and Jade's bathroom left him very underwhelmed with the judge saying he didn't like much of the room.
"These three choices, fight against each other," Palmer said in regards to the couple's choice of three tiles.
"The bathroom feels like everything is at odds to each other."
However, it was Harry and Tash's bathroom that coped the most heat from Palmer after he noticed a structural error with a straight frame being erected crooked.
"It's a screw-up! It's sad that an error like that can undo all of this hard work, especially in a stressful environment," Palmer said.