Here's Where to Follow The 2021 Bachelorettes Vying For Jimmy's Heart!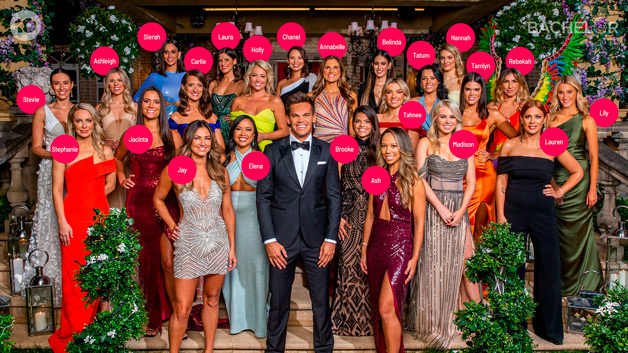 Introducing your 2021 Bachelorettes! As the latest season of The Bachelor takes off, it's time to meet the ladies vying for our newest bachelor, Jimmy Nicholson's heart.
The 31-year-old airline pilot is a self-confessed romantic and is set to find love on his greatest adventure yet. Keep reading to meet the 23 contestants looking for love!
---
Annabelle, 28, Medical Equipment Installer, NSW
https://www.instagram.com/beloregan/
---
Ash, 34, Dance Teacher, Queensland
https://www.instagram.com/ash_lee13/
---
Ashleigh, 28, Speech Pathologist, Victoria
https://www.instagram.com/afreckle_/
---
Belinda, 29, Criminal Lawyer, Queensland
https://www.instagram.com/belindacrobinson/
---
Brooke, 27, Occupational Therapist, Victoria
https://www.instagram.com/brookecleal/
---
Carlie, 33, Corporate Lawyer, Victoria
https://www.instagram.com/carliehodges/
---
Chanel, 34, Flight Manager, NSW
https://www.instagram.com/thedancingnomad/
---
Elena, 33, Personal Trainer, NSW
https://www.instagram.com/activeinstinct.lena/
---
Hannah, 26, Registered Nurse, NSW
https://www.instagram.com/hannahnorman/
---
Holly, 27, Marketing Manager, NSW
https://www.instagram.com/hollykingston/
---
Jacinta, 29, Executive Recruiter, Victoria
https://www.instagram.com/jacinta_boyss/
---
Jay, 31, Nutritionist, NSW
https://www.instagram.com/jacintalal_nutritionist/
---
Laura, 28, Speech Pathologist, South Australia
https://www.instagram.com/_lauraoloughlin/
---
Lauren, 29, Office Administrator, South Australia
https://www.instagram.com/loveandlauren/
---
Lily, 23, Crane Operator, Victoria
https://www.instagram.com/lilykprice/
---
Madison, 24, Marketing Coordinator, Victoria
https://www.instagram.com/_maddyallen/
---
Rebekah, 27, Youth Support Worker, NSW
https://www.instagram.com/bekmodernel/
---
Sierah, 28, Technical Analyst, Victoria
https://www.instagram.com/sweppo/
---
Stephanie, 27, Business Development Manager, Western Australia
https://www.instagram.com/ssgl/
---
Stevie, 29, Hair Stylist, Queensland
https://www.instagram.com/steviejeangrey/
---
Tahnee, 27, Corporate Travel Manager, Victoria
https://www.instagram.com/tahneerae/
---
Tamlyn, 25, Customer Service Officer, NSW
https://www.instagram.com/tamlynleigh/
---
Tatum 26, Company Director, Queensland
https://www.instagram.com/tatumhargraves/
---
Image Credit: (TheBachelorAU / Facebook)