Gluten free versions of your fav Arnott's biscuits now available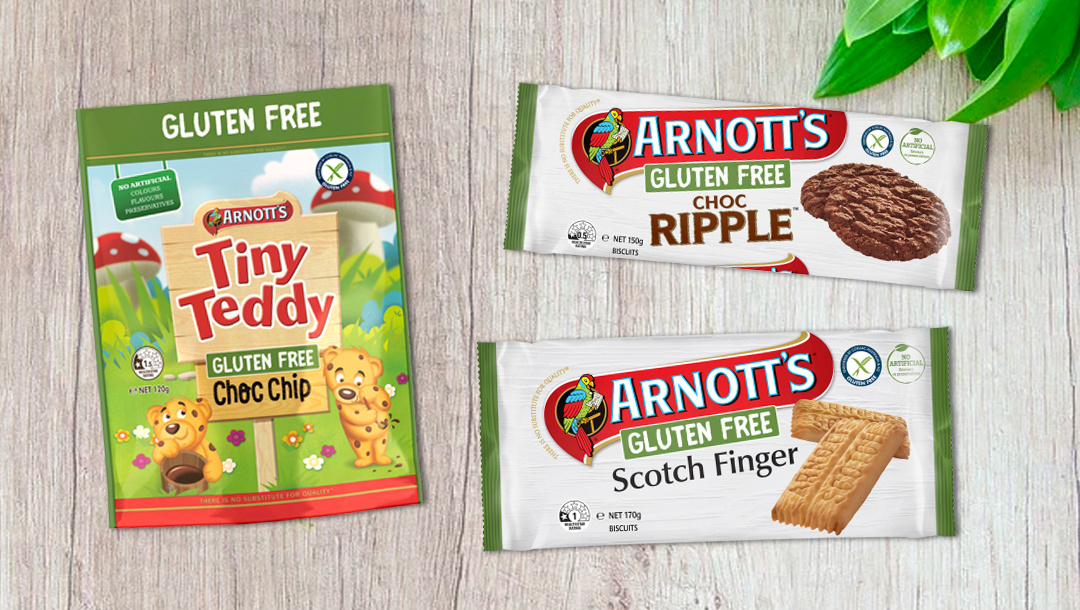 Australia's largest biscuit producer has granted a wish for all you Coeliacs!
The demand for gluten-free products continues to rise with Coealic disease affecting close to 1 in 70 Aussies, with another 7% of the population reporting gluten intolerance.
It's taken some time, but Arnott's have finally brought a range of bikkies to the gluten-free party including their Tiny Teddy, Choc Ripple and Scotch Finger biscuits.
Like the rest of us, the snack-mogul understand that flavour often get's compromised when manufacturing products without gluten, but they've declared with this new range 'there's no substitute for flavour!'.
"Endorsed by Coeliac Australia, we've baked the tastiest Gluten Free biscuits money can buy!

Finally, snacking salvation for the estimated 6 million Australians who avoid gluten!

We're introducing a new range of gluten Free biscuits that don't compromise on taste and quality. Our all-star lineup includes gluten free versions of our iconic Scotch Finger, Tiny Teddy, and Choc Ripple biscuits.

All three biscuits were developed to the exacting taste specifications of Arnott's culinary team. And great care was taken to achieve a delicious flavour and texture, like the buttery crumble of Scotch Finger, or the cocoa crunch of Choc Ripple"
Arnott's Brand Manager, Graham Fairbairn, said the product has been long-awaited. "With millions of consumers seeking out snacks that are both gluten free AND delicious, we decided it was time to treat them to biscuits that meet their dietary requirements without compromising on taste. When it comes to Arnott's, there's no substitute."
The new range is Australian made with a gluten free flour blend using locally sourced maize, tapioca, rice, sorghum, and soy.
Which one are you gonna try first?
Image Credit: Arnott's Biscuits