Viral TikTok Musician Talks Money and Reveals His Profits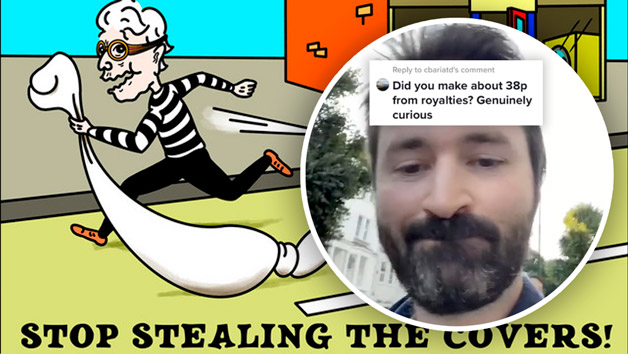 If you've ever scrolled away on TikTok, you've probably heard this viral song. The muso who recorded it has posted a video talking about the money he's made from it and it turns out it's quite a lot!
In 2015, Tom Rosenthal, an English singer-songwriter and composer recorded a cover of the song 'Home' by Edward Sharpe and the Magnetic Zeros. Five years later, in September 2020, his rendition of the song blew up and went viral on TikTok, already being used in 1.6 million videos.
In a video he posted to TikTok, Rosenthal replied to a comment asking him "Did you make about 38p from royalties? Genuinely curious." In his caption, he replies with "let's talk MONEY!"
The 35-year-old explains in the clip that when the song became popular, he was approached by almost every record label wanting to have a piece of it, however he declined. He says:
"When this song kind of exploded in a big way, pretty much every record label in the world got in touch going, "Oo can we have that one? Can uh, can we have a bit of that?" And uh, I said "no… you can't."
In response to his refusal, the labels told him the song would fall apart, however, Rosenthal proved them wrong, saying:
"They said, "oh well it'll be a flash in the pan then, you know I'm not sure it'll go very far. Might get a few streams first few days then it'll fall apart. Well they were wrong. And I didn't go with them. I was right and that means I get to keep all the money."
Although he didn't reveal the exact amount he got, he said the song has over a hundred million streams which we can work out the math for. He said:
"It's really quite a lot of money, not gonna lie. No point in lying, it's a short life. You can look at how much money a hundred million streams gets you online probably."
Note the calculator says it's a guide only and figures are an estimate, but converted to Australian dollars, this equates to roughly $650,000 (at the time of writing).
Rosenthal actually released the song under the pseudonym 'Edith Whiskers' as he wanted to differentiate his own original music from his covers. The cover of 'Home' was released as a single on October 16, 2020 on a covers album titled, "Stop Stealing the Covers."
Image Credits: (Edith Whiskers / Spotify) (@tomrosenthalmusic / TikTok)