All Aussies are being urged to scour their cupboards for Corningware's collectors items in the wake of the brands company collapse.
Instant Brands announced earlier this week that they are filing for bankruptcy. The cookware brand is the maker behind Instant Pot cookers, Corelle dinner plates and Pyrex glassware.
Off the back of this news the price of Corningware pieces on eBay have skyrocketed to as much as $25,000.
Article continues after this ad
Advertisement
The most expensive pieces are the ones with rare designs including "Floral" and "Wildflowers Spice of Life." Pictured below: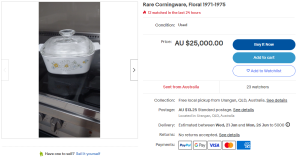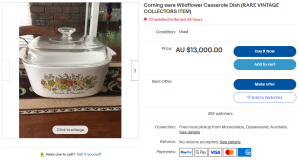 One eBay seller has made a killing out of this and told 7NEWS.com.au that her mother's collection had "been gathering dust in our home for years".
"I sold off a few pieces – with my mum's blessing of course – and have made about $9000 so far. I have another one listed at the moment, which I'm hoping to get around $2500 for,"
"I would never have thought that it could be so valuable. When I was younger, I thought it was just daggy. Now it's making us more money than I ever dreamed."
So if you haven't already ran to your kitchen or your parents kitchen to check for these gold nuggets in cookware form, you better go now!
Article continues after this ad
Advertisement
For more food info, check out the 5 Minute Food Fix podcast!